Contact
Ph: 086-2200678 Email: tt-ctt@CelbridgeTidyTowns.com


Number of volunteers - 64 @ Sept 2013 - more very welcome

Celbridge Tidy Towns thanks Kildare County Council for grants received in respect
to projects carried out during the 2013 season.


€3,000

towards the funding of grass cutting on approach roads


€900

Heritage Grant towards Wildlife Report


Celbridge Christmas Card 2013
A Beautiful Celbridge Christmas card is available again this year
in aid of local projects.
Last year's card helped to finance the
Town noticeboard, now used by many and this
year's Christmas card
will go towards a greater display of "Flowers on the Bridge"
that
we can all enjoy. The card is available in Walsh's chemist,
Lorcan's Flower Shop,
the Gift shop, SuperValu and Celbridge Jewelers
and of course cards can be put aside
on request by contacting Breda Konstantin
087 963 0719.
Cards cost one Euro and are sold in aid of the Tidy Towns.
Celbridge wins first ever prize in the national Tidy Towns Competition -
bronze medal winners 2013 - read adjudicator's report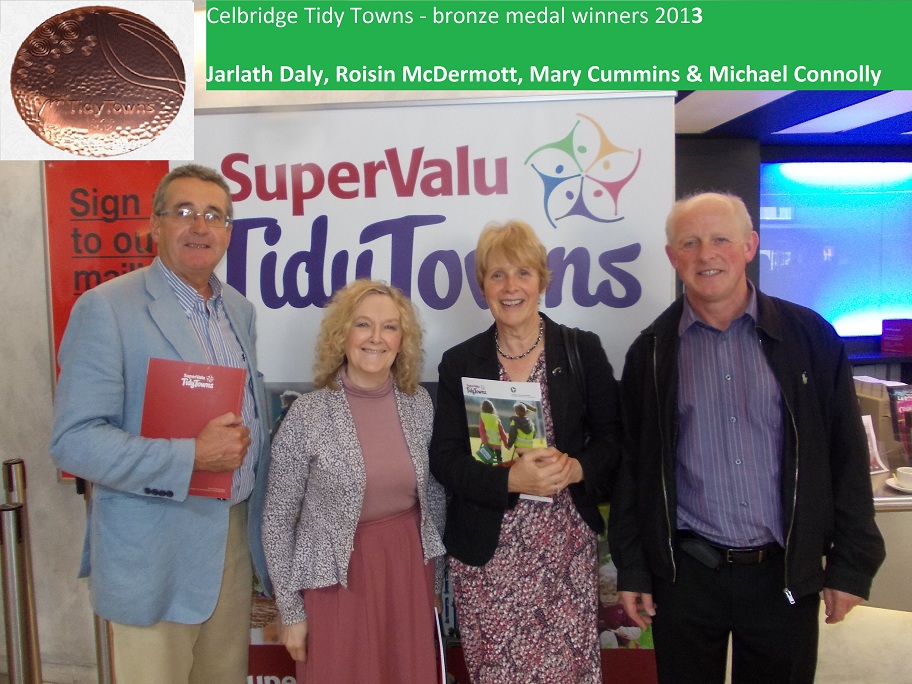 View Wildlife Report 2013

************** APPEAL ***************


Donations to help fund your Tidy Towns work can be lodged to:-
Allied Irish Bank, Main Street Celbridge,
A/C No: 05235092 – Sort Code:93-35-03


We need around 15,000 Euro per annum to stay afloat.
Our main expenses are:-
Grass cutting - 10,000 Euro
Flowers - 1,000 Euro
Plastic bags - 1,000 Euro
Flower tubs and baskets - 3,000 Euro


Report littering offences to 1800-243143 or by e.mail to environ@kildarecoco.ie
LITTER ACT - Summary